Here are a few examples of notable earthquakes that have occurred in Panama.
Date
Region
Magnitude
2009-07-04
Panama & Costa Rica
6 Mw
2004-02-04
Panama & Costa Rica
6.1 Mw
2003-12-25
Puerto Armuelles, Panama &

Limón, Costa Rica

6.5 Mw
2002-07-30
Burica Peninsula, Panama
6.5 Mw
2000-11-08
Panama & Colombia
6.5 Mw
1991-05-04
Bocas del Toro Province, Panama

& Limon Province, Costa Rica

6.2 Ms
1991-04-22
Panama & Costa Rica
7.7 Mw
1983-04-03
Panama & Costa Rica
7.3 Ms
1941-12-05
Panama & Costa Rica
7.6 Ms
1934-07-18
Panama & Costa Rica
7.7 Ms
1882-09-07
San Blas Islands, Panama
8.3 Ms
1621-05-02
Panamá Viejo, Panama
6.9 ML
The 1621 Panamá Viejo Earthquake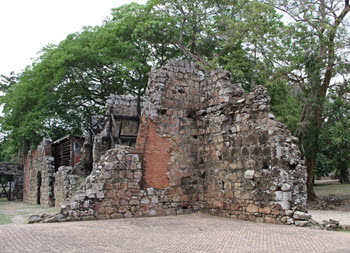 This earthquake occurred on 2 May, 1621. It took place in the afternoon local time, at some point between 16:30 and 16:45. This main shake was preceded by a smaller shake that occurred at some point between 9 and 10 in the forenoon.
The 1621 Panamá Viejo earthquake was the first major earthquake recorded by the colonial authorities on the Isthmus of Panama. Of course, modern seismographic equipment was not used back then, but the magnitude of the quake has later been estimated to about 6.9 M and a maximum Mercalli intensity of VII (very strong).
The epicenter was at the Pedro Miguel fault.
Coordinates: 8.6°N 79.3°W
The earthquake partially destroyed the old town of Panama, known in Spanish as Panama la Vieja, which at this point in history had roughly 5,000 residents. Masonry buildings were especially prone to destruction. Examples of buildings that collapsed completely were the Council house, the Municipal house, the Prison, and the house of the judge of the Audiencia of Panama. The Convento de la Concepción and the Iglesia de la Compañía de Jesús (Church of the Society of Jesus) suffered serious damage and were only partially rebuilt afterwards.
Tsunami
A minor tsunami was reported by a witness in a coastal town in Panama, where sea water flooded a street.
The 1991 Limon Earthquake
This 7.7 Mw earthquake actual had its epicenter in Costa Rica, but a majority of the fatalities occurred in Panama.
The quake occurred on 22 April, 1991, at 15:57 local time (21:57 UTC). It had a dept of circa 10 km and a Mercalli intensity of IX (violent). The epicenter was in Pandora, Valle La Estrella, which is in Costa Rica's Limon Province, on the Caribbean side of the country. Coordinates: 9.685°N 83.073°W.
So far, this is the strongest earthquake ever recorded in Costa Rica, and it was felt throughout the country and in western Panama.
Damage and deaths
Of the 127 reported fatalities, 48 occurred in Costa Rica and 79 in Panama's Bocas del Toro Province. Because of this, the earthquake is sometimes referred to as the Bocas del Toro Earthquake, especially in Panama.
Panama
In Panama, extensive damage occurred in places such as Guabito, Almirante, Changuinola, and Isla Colon. In addition to the deaths, 454 people were reported injured, 866 buildings were destroyed, and circa 2,400 people lost their homes.
In Changuinola, the Changuinola "Capitan Manuel Niño" International Airport suffered serious damage at the southern end of the runway, rendering it unusable for most plane types. Because of this, helicopters became very important for the rescue work after the quake. Changuinola was also where the office building belonging to the famous fruit company Chiquita separated with a 3-meter wide breach.
Costa Rica
In addition to the deaths, 109 injuries were reported and 7,439 persons became homeless. Within the epicentral area, some zones suffered from liquefaction.
In Limon, Costa Rica, many buildings collapsed, including hotels. Roads and bridges between the port town Puerto Limón and the border town Sixaola were destroyed by the quake, which made it difficult to reach the epicentral region afterwards, and aid work arriving from the outside largely had to rely on helicopter transport from Panama. Fortunately, the Costa Rica – Panama bridge in Sixaola was not destroyed.
Off the Costa Rican coast, an uplift at the waterfront left coral and sand bluffs exposed.
Tsunami
The earthquake caused a circa 3 meter tall tsunami.
The 2002 Burica Earthquake
The 2002 Burica Earthquake took place 31 July at 00:16 UTC time, but in Panama it was still 30 July and the local clocks showed 19:16 in the evening.
This was a 6.5 Mw earthquake with a depth of 22.5 km.
The epicenter was off the southeastern coast of Panama's Burica Peninsula, not far from the Costa Rican border. Coordinates: 7.91°N 82.75°W.
Buildings collapsed in both Panama and Costa Rica, but no fatalities were reported and the number of reported injuries was low. The strongest intensity on land was VII (very strong) on the Mercalli scale, reported from Puerto Armuelles in Panama.
This earthquake occurred along the Panama Fracture Zone; the right lateral transform fault where the Cocos Plate ends and the Nazca Plate starts.
Aftermath
On 7 August, a 6.0 Mw aftershock occurred at 23:59 UTC.
The 2003 Puerto Armuelles Earthquake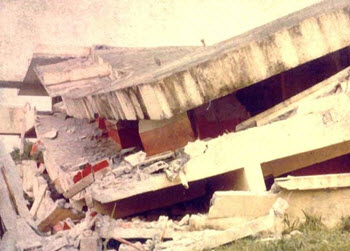 This 6.5 Mw earthquake occurred during the night between Christmas Eve and Christmas Day, at 02:11 local time on 25 December. The UTC time was 07:11 on 25 December.
The epicenter was at 8.416°N 82.824°W, which is roughly 7 km east of Puerto Armuelles. Puerto Armuelles is a Pacific Ocean port city in the western part of Panama's Chiriquí Province, near the Costa Rican border.
Two fatalities were reported; both from Puerto Armuelles. 75 people were injured.
The quake was 33 km deep.
Buildings were damaged in both Panama and Costa Rica, and Puerto Armuelles was without electricity for roughly four hours.
The quake had a maximal intensity of VIII (severe) on the Mercalli scale, reported from Finca Naranjo, Costa Rica. In Puerto Armuelles, the intensity was just VII, and in Limón, Costa Rica it was IV.